Nationals Update 
Ben Harden, a Blaze sailor from Allen Bros has worked his magic with his colleagues and they have agreed to sponsor some of the prizes at the Nationals: 
Allen Brothers has, for the first time, announced they will supporting the Blaze Class by sponsoring the 2018 National Championships at the North Devon Yacht Club on 8th to the 10th June.  
Event organisers are hoping for a record year and with 42 competitors already entered it looks likely. Liz Adams, Managing Director of Allen Brothers said "We have been supplying the Class boat builder, Hartley Boats, with our hardware for some time and it's good to see that we have become the go to choice for hardware within the Blaze fleet. We hope that with our support we can continue to help the class grow to new heights."
Allen have kindly provided plenty of vouchers for overall winners including the Halo and Fire Fleets. There will also be other prizes for the highest recorded speed over the 3 days of racing as well as a prize for the most improved sailor.  
Allen Brothers manufactures performance sailing equipment from its headquarters in Essex, UK which it exports around the world. The company has a 60 year heritage and has a reputation for innovation by incorporating feedback and development from its sponsored sailors into its products. 
For more info on Allen brothers visit www.allenbrothers.co.uk or https://www.facebook.com/AllenBrothersSailing/
Thanks Ben ! 
Blaze/Halo/Fire Traveller Event 7/8 July at Warsash SC
Details of this event have now been published and are available on the Warsash SC site. Early Bird entries up to 24 June are just £25 and include a free drink, free tea and cake on both days and a band on Saturday evening with dinner available. Look forward to seeing lots of you at the event. We always put on a great weekend so enter now.
More Information at:

We're planning to hold a Blaze training day on Saturday April 7th. The plan is that training will be run by the Andrew Simpson Watersports Centre who've recently taken over the training establishment at Burghfield.
The Blaze CA have kindly offered to subsidise the training
for its members
, so the cost will be £15 per person. However we need to know how many people would be interested so the correct resources can be allocated. So if you're interested in attending a training day (even if you can't make 7th April), we'd be really grateful if you could
fill out this new Webcollect form
. (Apologies to all of you who've already filled out a form, the original one didn't have any means of collecting money!)

Note your contact details are only so we can contact you with information relating to this specific event. On completion of the event all this information will be deleted.

Whilst ASWC will be running the formal training, it would be really useful to have more experienced Blaze sailors on hand to help with Blaze specific settings etc. So if you're able to help out could you also please fill in the form. Obviously there won't be any charge for people helping out.
The East Coast Championship
The Notice of Race for each event will be published a month in advance and will appear in the list below  
14th and 15th April,Blaze Open Meeting,Blaze Open Meeting, Blackwater SC, Heybridge
20th May, Royal Corinthian, Burnham
14th and 15th July, Wilsonian, Rochester
11th and 12th August, Stone, St Lawrence
2018 Blaze Nationals 8/9/10 June
The Blaze sailors at North Devon Yacht Club and Sailing Southwest look forward to welcoming you all to Instow for the Blaze, Fire and Halo National Championships.
​
We have great news! We have not had to increase the cost and this year you get more for your money!
-3 days of racing
-Free drink when registering on Thursday night
-Free dinner Saturday night and entertainment
-Free tea and cake on Friday and Saturday after racing
-A GPS tracker record of your races
-Free Blaze t-shirt from one of our sponsors Ocean Elements 
​
And the best bit, Hartley Boats have generously agreed to provide £25 sponsorship towards a discounted entry for every early registration. So what are you waiting for? Register and pay today and book your accommodation now to get the best places in this popular tourist location. Please note, spaces are limited at 70 for this event.
Blaze Inlands Results
To read Andy McIvor's excellent write-up of the event, click here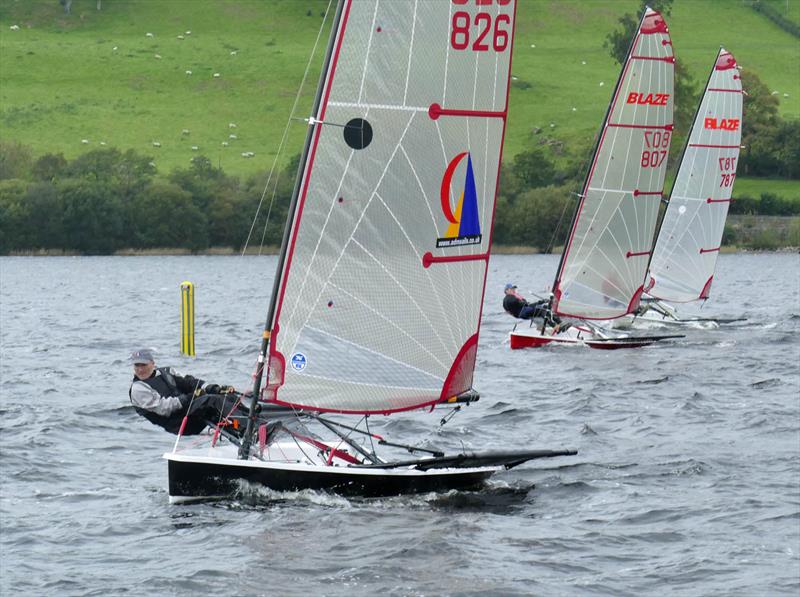 Winner Andy McIvor showing us how it is done upwind.
Blaze Nationals results 2017
The Blaze / Hadron Nationals at Warsash were a big suceess. The results are now published, click here to see them.
There are three Nationals photo links:
http://www.closehauledphotography.com/p81290883
Race report

The 2017 Blaze National Championships for 2017 were hosted at Warsash Sailing Club over three days from 2nd to 4th June.
61 boats were pre-entered of which 3 were Fires.

After a light-winds induced 1.5 hour delay, the Friday began on a calm note with the sailors at times struggling for breeze on the 1.5 mile trip out to the sailing area between Solent Breezes and Lee-on-Solent. This included a 90 degree wind shift just prior to the start.

The breeze filled in nicely once round the Warsash foreshore, ample for a pleasant couple of Friday afternoon races. Both races using the trapezoid course. The races were completed without any black flags, and many complementary comments from Peter Knight the RO about what an orderly fleet we are.
Mike Lyons (Burghfield SC) secured two victories with Eden Hyland (Chase SC) and Andy McIvor (Blackwater SC) trading 2nd and 3rd for both races. With David Angwin and David Entwistle (both Burghfield SC), Tim Freeman and Richard Hill (both Warsash SC) and Gareth Davies (Blackwater SC) not far behind, the scene was set for the weekend.

The tea and cakes (excellently collected from the supermarket by Richard Hill) were served (also excellently by Petrina & Amanda) to returning competitors in exchange for tally wrist bands. There then followed a commodore's welcome, food, refreshments (including a free drink from Kayospruce), skittles and a quiz (won by The Lobsters).

Saturday dawned with a distinct lack of wind. A sea breeze won it's battle with the gradient wind in time for the scheduled 12:00 start.

Conditions were breezy as the boats lined up on the (again well disciplined) start line. A committee boat anchor issue necessitated a restart of race 3. A trapezoid course with two laps gave plenty of lively racing, with the strong easterly tide causing more than a few issues at the windward mark. As the south westerly breeze picked up, so did the swell. Conditions that seemed to suit Gareth Davies (Blackwater SC) well, recording two first places in races 3 and 4. Bob Cowan's brand new Hartley Blaze (on it's second outing) managed to keep ahead of his old boat now sailed by Tim Freeman with 2nd and 3rd places respectively in race 3.

With wind and swell building, a two lap trapezoid course was set for race 4. More excitement at the windward mark saw a couple of Warsash boats (Peter Knowlden and Lloyd Exley) dis-masted. A combination of approx 16ft of water depth + 3ft of swell. With six rescue boats in attendance, they were quickly dealt with. Nick Thorne (Warsash SC) also suffered some mast damage, and with a pronounced bend to port spent the rest of the championships empathising with Alex Thomson. Final results of this exciting race were again Gareth Davies in 1st place, Eden Hyland in 2nd and Hugh Kingdon (Burghfield SC) in 3rd. Hugh also in a brand new Hartley Blaze.

Following a 90 degree wind shift on the final lap and with several boats retired, two dismasts and a rising breeze, the RO cancelled the third race of the day. Sailing finished on schedule for tea and cakes, again excellently served at around 5pm.

Too Drunk to Dance (the WSC band) played a selection of music during the evening meal. The competitors made full use of the temporary downstairs bar/beer tokens in the pleasant evening sunshine. One or two sailors sporting new sticky plasters since the morning.

An early start on the Sunday saw a windy forecast. Steady Force 5. Thanks to some nifty trolley help, the fleet headed out for three races starting at 11am. With the wind picking up all the day, Gareth Davies continued his dominance at the top of the fleet by winning all three races. Races 5 and 6 being two laps of a trapezoid with race 7 being a 3 lap triangle sausage. Eden Hyland secured a 2nd place in race 5. Mark Hartley bagged a couple of 2nd places in races 6 and 7. Richard Hill and Andy McIvor taking 3rd place in races 6 and 7.

Following more excellently served tea and cake followed by a buffet, many prizes were awarded with Gareth Davies winning overall with 5 points, Eden Hyland taking 2nd place with 13 points and Andy McIvor in 3rd place with 16 points. Engraved glasses were provided to the first 10 Blazes. David Angwin was Grand Master and Nick Ripley was Master

In the Fires class, Catherine Helmsley took 1st place, Laurence Marshall 2nd and Paul Taylor 3rd with all receiving engraved glasses.

Eden Hyland won the youth prize, the Master trophy went to Nick Ripley, Grand Master to David Angwin and Great Grand Master to Bob Cowan.

Warsash SC won the club prize. Mark Turner won the Endeavour prize with the tiller trophy.

Many thanks go to the organisers, the shore crew lead by Hannah Freeman (including the many trolley helpers), rib drivers & crew, race office & helpers, tea/cake ladies and all the competitors for coming to a very much enjoyed event.

We are also grateful to the sponsors, Hartley Boats who provided many chandlery items, Kayospruce for the beer tokens and trolley tags, Rain & Sun for some quality rudder bags. Thank you to the Blaze Class Association for their assistance and for providing the trophies and engraved glasses.
Worth a check....
When you are packing your boat, ready for POSH or the Nationals, have a quick look at your shroud terminals. A Burghfield boat suffered a broken carbon mast today, following failure of a shroud.
Below is a picture of the remaining shroud, looking as though it's also on borrowed time.....
AGM Final Agenda



The Annual General Meeting of The Blaze Class Association will be held at 6:30 p.m. on Saturday 3rd June 2017 at Warsash Sailing Club (postponed from 8th October 2016)
AGENDA
Minutes of previous meeting (http/blaze-sailing.org)
Chairman's Report
Secretary/Treasurers Report
Event Co-ordinator's Report
Election of Committee
Any other business - Open discussion on future sailing programme
2019 National Championships
STOP PRESS
Brixham Yacht Club will be the location for our 2019 Championships on 31st May, 1st and 2nd June. Put the dates in your diary and 2018 will be at North Devon Yacht Club, 8th, 9th, 10th June 2018. We return to Paignton SC in 2020
Joint Open Meetings with Fire and Halo

The Class Association would like to make everyone aware of how the multiple class open meeting will work. There will be a separate start for the Blazes and a combined start for the Halo and Fire. We would like to be as inclusive as possible but need to ensure that rig swapping is not used to distort the results. So it has been proposed that which ever class you cross the startling line for your first race of an open meeting will be the one that is used for your results. If you subsequently change rigs you will be allowed to race but your results will not be counted for your second rig. Whilst this may not make all of you happy it does allow people to sail rather than sit on the shore when conditions change.