2018 Blaze Nationals 8/9/10 June
The Blaze sailors at North Devon Yacht Club and Sailing Southwest look forward to welcoming you all to Instow for the Blaze, Fire and Halo National Championships.
​
We have great news! We have not had to increase the cost and this year you get more for your money!
-3 days of racing
-Free drink when registering on Thursday night
-Free dinner Saturday night and entertainment
-Free tea and cake on Friday and Saturday after racing
-A GPS tracker record of your races
-Free Blaze t-shirt from one of our sponsors Ocean Elements 
​
And the best bit, Hartley Boats have generously agreed to provide £25 sponsorship towards a discounted entry for every early registration. So what are you waiting for? Register and pay today and book your accommodation now to get the best places in this popular tourist location. Please note, spaces are limited at 70 for this event.
Blaze Inlands Results
To read Andy McIvor's excellent write-up of the event, click here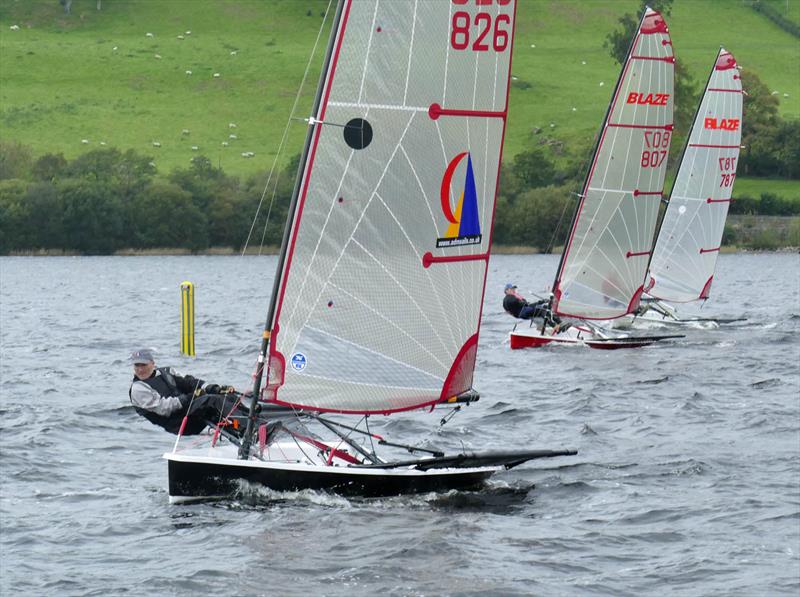 Winner Andy McIvor showing us how it is done upwind.
Blaze Nationals results 2017
The Blaze / Hadron Nationals at Warsash were a big suceess. The results are now published, click here to see them.
There are three Nationals photo links:
http://www.closehauledphotography.com/p81290883
Race report

The 2017 Blaze National Championships for 2017 were hosted at Warsash Sailing Club over three days from 2nd to 4th June.
61 boats were pre-entered of which 3 were Fires.

After a light-winds induced 1.5 hour delay, the Friday began on a calm note with the sailors at times struggling for breeze on the 1.5 mile trip out to the sailing area between Solent Breezes and Lee-on-Solent. This included a 90 degree wind shift just prior to the start.

The breeze filled in nicely once round the Warsash foreshore, ample for a pleasant couple of Friday afternoon races. Both races using the trapezoid course. The races were completed without any black flags, and many complementary comments from Peter Knight the RO about what an orderly fleet we are.
Mike Lyons (Burghfield SC) secured two victories with Eden Hyland (Chase SC) and Andy McIvor (Blackwater SC) trading 2nd and 3rd for both races. With David Angwin and David Entwistle (both Burghfield SC), Tim Freeman and Richard Hill (both Warsash SC) and Gareth Davies (Blackwater SC) not far behind, the scene was set for the weekend.

The tea and cakes (excellently collected from the supermarket by Richard Hill) were served (also excellently by Petrina & Amanda) to returning competitors in exchange for tally wrist bands. There then followed a commodore's welcome, food, refreshments (including a free drink from Kayospruce), skittles and a quiz (won by The Lobsters).

Saturday dawned with a distinct lack of wind. A sea breeze won it's battle with the gradient wind in time for the scheduled 12:00 start.

Conditions were breezy as the boats lined up on the (again well disciplined) start line. A committee boat anchor issue necessitated a restart of race 3. A trapezoid course with two laps gave plenty of lively racing, with the strong easterly tide causing more than a few issues at the windward mark. As the south westerly breeze picked up, so did the swell. Conditions that seemed to suit Gareth Davies (Blackwater SC) well, recording two first places in races 3 and 4. Bob Cowan's brand new Hartley Blaze (on it's second outing) managed to keep ahead of his old boat now sailed by Tim Freeman with 2nd and 3rd places respectively in race 3.

With wind and swell building, a two lap trapezoid course was set for race 4. More excitement at the windward mark saw a couple of Warsash boats (Peter Knowlden and Lloyd Exley) dis-masted. A combination of approx 16ft of water depth + 3ft of swell. With six rescue boats in attendance, they were quickly dealt with. Nick Thorne (Warsash SC) also suffered some mast damage, and with a pronounced bend to port spent the rest of the championships empathising with Alex Thomson. Final results of this exciting race were again Gareth Davies in 1st place, Eden Hyland in 2nd and Hugh Kingdon (Burghfield SC) in 3rd. Hugh also in a brand new Hartley Blaze.

Following a 90 degree wind shift on the final lap and with several boats retired, two dismasts and a rising breeze, the RO cancelled the third race of the day. Sailing finished on schedule for tea and cakes, again excellently served at around 5pm.

Too Drunk to Dance (the WSC band) played a selection of music during the evening meal. The competitors made full use of the temporary downstairs bar/beer tokens in the pleasant evening sunshine. One or two sailors sporting new sticky plasters since the morning.

An early start on the Sunday saw a windy forecast. Steady Force 5. Thanks to some nifty trolley help, the fleet headed out for three races starting at 11am. With the wind picking up all the day, Gareth Davies continued his dominance at the top of the fleet by winning all three races. Races 5 and 6 being two laps of a trapezoid with race 7 being a 3 lap triangle sausage. Eden Hyland secured a 2nd place in race 5. Mark Hartley bagged a couple of 2nd places in races 6 and 7. Richard Hill and Andy McIvor taking 3rd place in races 6 and 7.

Following more excellently served tea and cake followed by a buffet, many prizes were awarded with Gareth Davies winning overall with 5 points, Eden Hyland taking 2nd place with 13 points and Andy McIvor in 3rd place with 16 points. Engraved glasses were provided to the first 10 Blazes. David Angwin was Grand Master and Nick Ripley was Master

In the Fires class, Catherine Helmsley took 1st place, Laurence Marshall 2nd and Paul Taylor 3rd with all receiving engraved glasses.

Eden Hyland won the youth prize, the Master trophy went to Nick Ripley, Grand Master to David Angwin and Great Grand Master to Bob Cowan.

Warsash SC won the club prize. Mark Turner won the Endeavour prize with the tiller trophy.

Many thanks go to the organisers, the shore crew lead by Hannah Freeman (including the many trolley helpers), rib drivers & crew, race office & helpers, tea/cake ladies and all the competitors for coming to a very much enjoyed event.

We are also grateful to the sponsors, Hartley Boats who provided many chandlery items, Kayospruce for the beer tokens and trolley tags, Rain & Sun for some quality rudder bags. Thank you to the Blaze Class Association for their assistance and for providing the trophies and engraved glasses.
Worth a check....
When you are packing your boat, ready for POSH or the Nationals, have a quick look at your shroud terminals. A Burghfield boat suffered a broken carbon mast today, following failure of a shroud.
Below is a picture of the remaining shroud, looking as though it's also on borrowed time.....
 AGM Final Agenda



The Annual General Meeting of The Blaze Class Association will be held at 6:30 p.m. on Saturday 3rd June 2017 at Warsash Sailing Club (postponed from 8th October 2016)
AGENDA
Minutes of previous meeting (http/blaze-sailing.org)
Chairman's Report
Secretary/Treasurers Report
Event Co-ordinator's Report
Election of Committee
Any other business - Open discussion on future sailing programme
2017 National Championships, Warsash SC June 2/3/4th June
The Notice of Race and Entry Form are now available. It looks like this is going to be a bumper event - don't miss it....

ACCOMMODATION LIST
 Please click here for the accommodation list.
BLAZE CLASS MEMBERSHIP AND NATIONALS 2017
 
 
 
 
 
 
 
Memb
Nats
Boat no.
Name
Surname
home club
 
£20
£25
751
Paul
Taylor
Burghfield SC
 
£20
£60
780
Andrew
Taylor
Blackpool & Fleetwood YC
 
PP£20
£25
744
Paul
Tatem
North Devon YC
 
PP£20
£25
800
Simon
Beddows
Burghfield SC
 
£20
£25
804
Tim
Heaton
 
 
£20
£25
799
Richard
`Botting
Draycote Water SC
PP£20
£25
809
Andy
Maw
Burghfield SC
 
£20
£25
803
Hugh
Kingdon
North Devon YC
 
£20
£25
 
Mike
Bell
Burghfield SC
 
£20
£25
720
Nick 
Thorne
Warsash SC
 
£20
£25
710
Nick 
Ripley
Paignton SC
 
£20
£25
797
Mike
Holmes
Paignton SC
 
£20
£25
 
Martin
Hattersley
Chase SC
 
CHQ £20
£25
807
Simon
Hare
Oxford SC
 
£20
£25
810
Terry
Crook
Blackwater SC
 
CHQ £20
£25
 
Andy
McIvor
Blackwater SC
 
 
£25
764
Ben 
Fullalove
Blackwater SC
 
£20
£25
 
Bob
Cowan
Warsash SC
 
CHQ £20
£25
818
Mike
Lyons
Burghfield SC
 
 
£25
819
Jeremy
Lowe
 
 
£20
£25
763
Peter
McFarlane
Burghfield SC
 
£20
£25
723
Alex 
Williams
Blackwater SC
 
£20
£25
648
Steve
Jobling
Pevensey Bay SC
 
£20
£25
726
Dan
Langdon
Durleigh SC
 
£20
£25
769
Richard
Hill
Warsash SC
 
£20
£25
566
Jed
Bonsor
Warsash SC
 
PP £20
chq £25
796
Bob
Yates
Burghfield SC
 
£20
£25
815
David 
Angwin
Burghfield SC
 
£20
£25
761
Paul
Hemsley
Felpham SC
 
£20
£25
808
Catherine
Hemsley
Felpham SC
 
£20
£25
729
Nick
Creak
Hamble River SC
 
PP £20
£25
678
Lloyd
Exley
Warsash SC
 
PP £20
£25
683
John
Exley
Warsash SC
 
£20
£25
 
Gareth
Hyland
Chase SC
 
£20
£25
581
Eden
Hyland
Chase SC
 
£20
£25
795
Laurence
Marshall
Oxford SC
 
 
chq £25
781
David 
Entwistle
Burghfield SC
 
£20
£25
552
Ben 
Burley
Covenham SC
 
£20
£25
688
Samuel
Parkinson
Burghfield SC
 
csh  £20
csh £25
811
Peter
Barlow
Burghfield SC
 
 
£25
679
Stuart
Bailey
Wilsonian SC
 
£20
£30
637
Colin 
Campbell
Pevensey Bay SC
 
£20
£30
685
Simon
Shields
Roa Island Boat Club
chq  £20
chq £30
563
Marc
Hutchings
Burnham SC
 
PP £20
 
671
Chas
Coghill
Leigh & Lowton SC
PP £20
 
591
Darren
Gregory
Glossop SC
 
£20
£30
690
Andy
Buchanan
Warsash SC
 
£20
£30
713
John
Ironmonger
North Devon YC
 
 
£5
 
Tim
Powell
Warsash SC
 
 
£5
 
Tim
Freeman
Warsash SC
 
£20
£30
732
John
Hewat
Wilsonian SC
 
£20
£30
768
Brian
Buggy
Portishead Yacht & SC
 
£30
716
Mike 
Palmer
Warsash SC
 
PP £20
chq £60
779
Andy
Whitcher
Pembrokeshire Yacht Club
chq £20
 
661
Richard
Franklin
Royal Corinthian YC
PP £20
 
822
Mark
Weston
West Riding SC
 
PP £20
 
544
Bobby
Mcghee
Preswick SC
 
chq £20
chq £60
719
Martin
Jones
Wilsonian SC
 
 £20
£60
780
Andrew
Taylor
Blackpool & Fleetwood YC
 
 
 
 
 
 
 
 
Travellers' Series 2017
As in previous years, we are promoting a Travellers' Series for 2017. This is open to all Class Association members and will consist of 4 events with the best 3 results counting for the final result. The events are:-
Burghfield Blaze Open Meeting - 1st/2nd April
Paignton Open for Single Handers - Paignton Sailing Club - 6th/7th May
National Championships - Warsash Sailing Club - 2nd/3rd/4th June
Inland Championships - Bala SC - 7th/8th October
So make sure you have joined the CA and put the dates in your diary.
p.s.

There will be a prize for every sailor wno qualifies at the end of the series.
2017 Membership
It's that time of year again for renewing your CA membership. Your £20 contributions help support the activities of the Class. Class organised events require that all sailors are CA members.
Many of you joined when you made your early entries to the Nationals, but there are one or two where the memberships were not paid. You can pay you fee using the PayPal facility on the website.
2017 looks like being a great year for the class, we already have a record entry to the Nationals at Warsash and look forward to welcoming you all to Burghfield on 1st/2nd April for our 1st Blaze Class organised event of the year. It is a particularly good event for newcomers as there will be plenty of help and advice from the regular sailors as well as an opportunity to practice your skills.
Other notable events include Paignton Open for Single Handers organised by Paignton SC on 6/7th May, It's a great location with easy launching off the beach and a great atmosphere for the social scene. More news of later events in the near future.
The latest list of entries and membership can be seen below
2019 National Championships
STOP PRESS
Brixham Yacht Club will be the location for our 2019 Championships on 31st May, 1st and 2nd June. Put the dates in your diary and 2018 will be at North Devon Yacht Club, 8th, 9th, 10th June 2018. We return to Paignton SC in 2020
Warsash Open 2016 - event report
Blaze Open at Warsash Event Report

Slightly later in the year than usual, twenty two Blazes took to the Solent waters for the Warsash Blaze Open 2016. Eight from WSC and fourteen travellers.

After many bacon butties and several gallons of tea, the fleet headed out (together with the Buzzs and RS400s) for a mile or so round the coast to the east to the race area where Nigel Russel (RO and WSC Commodore) had prepared a large trapezoid course.
Winds forecast at 3 to 4 occasionally 5, which turned out to be remarkably accurate.

Race One saw one OCS, WSC's Tim Powell (racing against brother Jonny). There then followed a battle between Mike Lyons, Mark Astbury and Bob Cowan for podium places over the two laps.
Race Two commenced in building winds and a strong cross tide. Bob Cowan took first place with Mike Lyons in second and Nick Thorne in third place.
As the wind built to the top of a 4, gusting 5, Race Three followed on quickly (with some peak speeds of 19Knots recorded on a probably inaccurate smartphone app). A useful swell built up allowing for some speed enhancing wave surfing. Much swapping of places, particularly in the last reach, followed by a tricky beat dodging the RS400 and Buzz fleet to a shortened finish line. Keen eyes needed on the committee boat to separate the finishers. Mike Lyons was again in first place with Tim Powell second and Bob Cowan third.

End of day 1, and we'd had great winds, and some excellent racing. Back to the club for more tea, a splendid variety of cakes, and a spot of brotherly 'discussion' between Tim and Jonny - something to do with gentlemanly conduct and the start line.

During the Saturday evening social in the Hall drink vouchers provided by Kayospruce were swapped for much needed beer and other drinks. A 2 course meal was devoured by hungry sailors and we were entertained by Tim Powell and 3 friends with great live music and even a little dancing. The evening finished late after excellent trade at the bar!

Sunday dawned warm and not so windy, with a 9am competitors' briefing and a 10:30 AM race start. Ominously, some of the fleet had to be towed to the race area as the wind went light. It turned out that a sea breeze was competing with the gradient wind, and one of them (the sea breeze) won out just in time for a 10 minute delayed start, albeit lighter than on day one.

Lighter winds played to the strengths of some different helms, with Race Four being taken by Simon Beddows followed by Mark Astbury and Mike Lyons. In slightly more wind, and with a definite bias to the east of the course, Race Five saw Mike Lyons take a win, followed by Tim Powell and Simon Beddows.
This race saw a retirement from Lloyd Exley with a snapped tiller courtesy of a 'gybing issue' with Mike Lyons taking another win.
Race Six saw another Mike Lyons win followed by Mark Astbury and Simon Beddows to conclude a very enjoyable and well organised six race series.

The excellently organized shore team again had our trolleys waiting for us leading to quick recovery of boats and us all enjoying more tea and cake.

The first five boats received engraved glasses which went in order to Mike Lyons, Bob Cowan, Tim Powell, Mark Astbury and Simon Beddows with 4 Warsash Blazes in the top 6. An array of sail bags, hats and clothes were kindly donated by the new Blaze class owners, Hartley Boats. A raffle was held to distribute the sailbag and 2 jackets. Other Hartley gifts were presented to those who had done something memorable! Full results can be found here:
http://enter.sailracer.org/results_report.asp…

Photos are available here: http://www.iainmcluckie.co.uk/p697123867

Nick Thorne
Blaze National Championships, Paignton Sailing Club 2016
Prizewinners
Champion - Eden Hyland, Chase SC
Runner-Up - Simon Beddows, Burghfield SC
3rd - Mike Lyons, Burghfield SC
4th - Ben Pickering. Chase SC
5th - Hugh Kingdon, North Devon YC
6th - Mark Hartley
Master - Hugh Kingdon. North Devon YC
Grand Master - Simon Beddows, Burghfield SC
Great Grand Master - Bob Cowan, Warsash SC
Endeavour Trophy - PeterMacfarlane, Burghfield SC
Report
There is something very satisfying about polishing a trophy, bringing out the shine on all the little shields of winners past (then getting bits of cloth stuck in them and cursing as you try to lever them out with a pair of eyebrow tweezers.) I had this privilege last weekend and enjoyed it safe in the knowledge that said cup would not be returning from the Nationals with me.

I'd been watching the weather and was happily resigned to my fate. By Thursday, no matter where you looked the answer was the same. Paignton would be warm, sunny, and a complete drifter! "But what about the sea breeze, I hear you cry." Yes, what about it, Mr Ripley?

In the spirit of hope over experience 40 Blazes turned up to try their stars and one of them would be going home with the cup in my polish-sodden hands.

There were several likely candidates. From Burghfield, spiritual home of the Blaze, Mike Lyons, a light wind master and former national and inland champion, and Simon Beddows, the pint sized lightweight and Blaze veteran never far behind him. From Chase a pair of youngsters, Ben Pickering, also a former National champion and always quick in a drift and of course young Eden Hyland, who had nailed his colours to the mast last autumn, narrowly missing out on the Inland Championship to Lyons, by only two points.

On to the briefing. Not everybody goes to briefings. Everybody should, because every now and then the race officer produces really crucial stuff that you will definitely need to know. For this event there was reams of it. Fiestly, there would be not one but four courses; Square, Olympic, Figure of Eight and Triangle, all denoted by a letter on the back of the committee boat. For starting, the black flag would not be used, instead, if we were naughty, the U flag would be used which is like a black flag, but different. And not black.

For finishing, a flag would be flown by the leeward mark to denote a shortened course, unless we weren't finishing and a mark was being moved mid race, at which point an extremely similar flag would be flown instead along with a plus or a minus sign to show that it was being moved closer or further away. It's all perfectly simple.

When asked if we could perhaps cram in a third race on day one so as to guarantee a championship, our Race Officer replied "I like your optimism". And so, optimistically, we flip flopped our way out in to Tor Bay.

Come the first start (square course) and Eden Hyland made his mark early, escaping from a mob on the boat end in to clear air. Off of the pin end Simon Beddows pulled away and tacked to cross Hyland, leading him to the mark. Looking upwind from the start there seemed to be more pressure on the left and for the most part those who went left won. At the top of the fleet Beddows pulled out a hundred yard lead and looked set to take the first race unchallenged. After an easy first lap he rounded the leeward mark and tacked. He went left. And lost. Badly.

Hyland, either through intuition or simply a desire to try something different to the leader, sailed on a little before tacking and this proved crucial. A wave of breeze filled in from the right, lifting him and all who followed him toward the mark. Beddows, and all followed him (including me, damnit), languished. He went from clear ahead and leading to 17th. Hyland took the race, followed by Lyons and Hugh Kingdon, who would prove a very reliable light wind sailor

In the name of variety a figure eight course was set for race two (which led to a lot of people staring at the comitee boat and trying to remember what the giant E meant) and, for the moment our few knots of breeze seemed to be holding after its swing to the east.

Beddows, his zeal undimmed, tried to lead off of the pin but tacked off to avoid a pair of boats luffing so high that one sailor got dunked to windward and almost fell out. Was it worth it, I wonder? Kingdon had more luck, led from the port end and tacked early. It was the right move, the windward mark was so far to the right that much of the fleet over stood on port and suffered for it. Kingdon rounded first, followed by Ben Pickering and then Hyland.

In five knots of breeze it was never going to be very dramatic. It all came down to the best offwind technique and Pickering would repeatedly show his quality, getting the most out of each friendly wave (a technique he learnt from a man in Barbados, apparently). Both he and the lightweight Hyland sailed around Kingdon on the penultimate leg to seal a one-two Brummy victory.

Race 3 saw Beddows once again take control, leading from the pin and then tacking very early to cross the fleet and go right. Warsash's Bob Cowan had beaten him to it though and tacked from further up the line, giving him an early lead. By this point in the day the tide, which hadn't this far been a huge factor, was driving the fleet to the left as it flowed in to Tor Bay. By tacking right early, Cowan and Beddows rode the tide in to the mark and pulled away. They didn't meet again until the second beat (we were now on an Olympic course, keep up!). Rather than sail defensively the pair crossed once, twice and on the third cross Beddows was clear ahead. With time running out and the breeze rapidly dying Hyland and Pickering closed the gap on Cowan and took him on the final, miserable drift to the line. Hyland took second and Pickering, ever determined, caught Cowan on the line for a true photo finish.

In the bar there was consternation in some quarters. The schedule had only planned for two races on friday but with a dire forecast for the remainder of the weekend the race committee had exercised their right to run a third. Whatever happened now, we had a champion and at the moment, sitting on 5 points, his name was Eden.

Saturday came in its grey, cool, breeze-less glory and, trapped in a boat park under a limp AP flag, there was much messing about with boats. One learns a lot, eavesdropping in a busy boat park. Most of it is interesting, some of it is useful, and some of it is downright shameful. For example, one should never ask Mr Hyland to tie a bow line because he doesn't know how. Likewise, while trying to tension a sail batten, a certain Mr Pickering let slip that he has no idea which part of the sail the leech is. Kids these days. Cuh.

Much food was eaten, much Beer was had (thanks Paignton!) And Sunday dawned looking...pretty much the same. Have the nationals in June, they said. There'll be a sea breeze they said.

Mother nature, not content to let us despondently pack up, eventually offered enough fitful ripples to tempt us out on to the water. So, on a Sunday afternoon 40 boats sat in the middle of Tor Bay and waited, for nearly two hours. If only someone had brought ice cream. Well, fortunately, they did! Ice lollies to be precise, forty or so of them distributed by rib to the lolling fleet. I don't know whose idea that was but on behalf of the Blazes, thank you for easing the pain.

We did, eventually, get a race out of it. By sheer perseverance the RO got a square course down and set a line. Five seconds before the gun half the fleet were already over it. General recall. I blame cabin fever.

With that agression out of our system and with the U flag flying, the fourth and final race of the 2016 nationals got underway. Everything was still to play for. With the exception of Hyland, all the leaders had one bad race counting. And with a 4th race comes a discard. Simon Beddows could lose his 17th, Ben Pickering could lose his 6th and if he beat Hyland in this last race they would be on equal points and he would win the championship on count back. The stage was set for the Battle of the Brummies.

Before I tell you, dear reader, the end of this tale, let's talk about the U flag. Like the black flag, if you are over the start line in the last minute before the gun, you are disqualified from that race. And like the black flag, unless the entire fleet is recalled, there will be no second gun to tell you that you are over the start line.
All there will be is your sail number displayed on a noticeboard on the comitee boat at the finish. And for the race in question you'd need to sail close to read the numbers, because so many boats were over that they nearly ran out of space.

Back to the start and a small group led off the middle of the line, Pickering initially leading. Beddows had stuck with the pin end and clear air and tacked across him to lead to the windward mark. Hyland followed and behind him Mark Hartley, of Hartley boats, the new builder of the Blaze. Mark had been quietly racking up respectable results and was about to discard his only shocker. A good result here would land him in the chocolates.

Pickering was already ahead of Hyland on the course but Eden had a 2nd to discard, so to beat him Pickering had to win the race outright. At the wing mark Beddows bore off, Pickering gybed for the inside and slowly, steadily, reeled him in, sailing below him to claim the lead. Hyland clawed past Beddows too but, try as he might, couldn't close the gap. Ben Pickering cruised to the finish line, victory, the narrowest, narrowest of victories, would now be his.

No gun. Stoney silence and a big white noticeboard with seven sail numbers on it, including his. Eden Hyland, who had watched the championship sail away from him in the last race was now given it back. Needless to say, Ben looked heartbroken. That's sailing for you.

At the prize giving there was a lot to cover. The Warsash open, always a popular fixture, is just around the corner (16th-17th July, enter early, it's cheaper) and come October the Inlands at Draycote.
Mark Hartley gave thanks for his welcome to the fleet and picked up a very respectable 6th. Not to mention the promise of prizes at future events. Yes, he definitely said that...with his eyes.

Aa for our new champion, I don't think Eden is very used to giving speeches. A short burst of thanks and he was off. He'll get used to it, if he keeps sailing like this there will be many more speeches to give.
Jonathon
Photos
Photos can be found at: http://www.stevecayley.photography/blaze2016
Event Calendar
Down on the right of this page you will find our new Event Calandar. By clicking on this calendar it will take you to the full page version, where the forthcoming Blaze, Fire and Halo events are listed, along with a few others that you might be interested in.....
Joint Open Meetings with Fire and Halo
The Class Association would like to make everyone aware of how the multiple class open meeting will work. There will be a separate start for the Blazes and a combined start for the Halo and Fire. We would like to be as inclusive as possible but need to ensure that rig swapping is not used to distort the results. So it has been proposed that which ever class you cross the startling line for your first race of an open meeting will be the one that is used for your results. If you subsequently change rigs you will be allowed to race but your results will not be counted for your second rig. Whilst this may not make all of you happy it does allow people to sail rather than sit on the shore when conditions change.